What's New at HV Power
Transformer Condition Monitoring: MTE - HYDROCAL
Transformers are the single most cost intensive and critical asset in power transmission/distribution and should therefore be supervised with special care. Analysis of the gases dissolved in transformer oil is recognised as the most useful tool for early detection and diagnosis of incipient faults in transformers. The cost effectiveness of online dissolved gas analysis (DGA) is well known in NZ and Australia, HV Power now support MTE's range of, maintenance-free, online DGA and moisture in oil detection solutions branded HYDROCAL.
Based in Switzerland, MTE (Meter Test Equipment) is perhaps better known for their highly dependable and highly accurate range of electricity revenue meter test equipment. Originally, the meter test equipment business was part of Landis&Gyr which was founded in 1896. In 1996 the meter test equipment was sold to MTE, who introduced their HYDROCAL range in 2006. HV Power only distribute MTE's HYDROCAL branded range and do not represent their metering products.
HYDROCAL capabilities range from the Model 1001+ that offers composite 6 gas sensing (& moisture in oil) capability to the 1008 multi-gas-in-oil analysis system with individual measurement of Moisture in Oil (H2O) and the key gases Hydrogen (H2), Carbon Monoxide (CO), Carbon Dioxide (CO2), Methane (CH4), Acetylene (C2H2), Ethylene (C2H4) and Ethane (C2H6).
Find out more about Condition Monitoring
Optional 5-year warranty from A.Eberle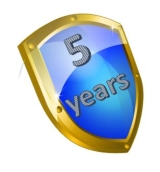 Due to the high confidence in their design and manufacturing quality, A.Eberle have offered an optional extension of their 3-year product warranty to 5 years. This warranty extension must be ordered at the same time as the equipment. Contact HV Power for specific pricing on warranty extensions.
Please note the original manufacturer's warranty applies to all third party devices, so PQ clamps, probes, accessories etc, typically have a 12-month warranty. Like most manufacturers, the warranty does not cover fuses, batteries and other 'consumables'.
Shark 200 - Energy Meter with IEC 61850 Support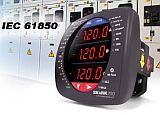 Electro-Industries has announced the upcoming release of IEC 61850 protocol support for all Nexus meters and the Shark 200. The capability of the meter to support IEC 61850 and simultaneous DNP-iP adds more impressive protocol support to the Shark 200 capabilities.Contact us to register your interest in further details as they become available.
IEC 61850 Protocol is supported in the Shark 200 via the INP300 Interface module, which offers dual Ethernet Interfaces (Copper RJ-45). The INP300 Interface also supports MODBUS-TCP and DNP-IP protocols. Dual interfaces enable you to make Shark 200 information available to "connected third parties" via the second port, without having to provide the third party with access to your network on the first port.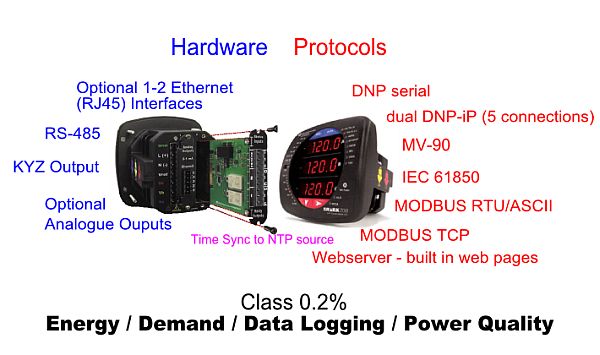 Remember that Shark and Nexus series feature built-in web pages, allowing you to view meter information without proprietary software. To see demonstration screens of the Electro-Industries "Total web solutions", click on http://www.mynexusmeter.com. This connects to a web page being served by an Electro-Industries Nexus 1500 Meter located in one of their offices. A similar report of measurement and metering information from Shark 200 (and other selected meters) can be made available on your own internal Ethernet networks when you use selected Shark or Nexus meters.
HV Power provides Resonant Earthing & Earth-fault Detection Solutions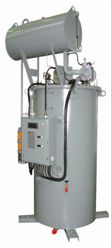 Internationally, the conversion of networks to resonant earthing is increasingly being undertaken to improve network reliability (improve SAIDI/SAIFI). These systems have been used for many decades in Europe with great success. Now HV Power offers a dependable solution for improved reliability of 11kV and 33kV networks, based on the cost effective Petersen coil. Coupled with modern current injection and advanced earth-fault detection and location techniques, HV Power's turnkey system is both cost effective and powerful.
HV Power has secured the rights of two major international companies to allow us to offer our customers this integrated and improved solution. EGE, a market leader in Europe and international supplier of Petersen coils, together with controllers and earth-fault detection products from our long standing supplier A.Eberle, are the basis for a turnkey solution. A.Eberle and EGE products are a proven and effective combination, used together in many countries around the world. These two suppliers have worked together to further improve the technology, such as the modern current injection techniques for improved control and earth-fault detection.
SCADA interface for Petersen coil control and earth-fault detection is available for DNP (serial and IP) and IEC 61850 SCADA systems, to suit New Zealand utilities.
More information on EGE Petersen Coils
More information on A.Eberle controllers & earth-fault detection products